Projects
We have a portfolio of projects in Sweden and Finland, mostly early-stage exploration, but in Kallak we have a project with considerable resource and technical work completed to date. Our portfolio includes a mix of commodities: iron ore (magnetite and hematite); base and precious metals; and, with our graphite assets, industrial minerals.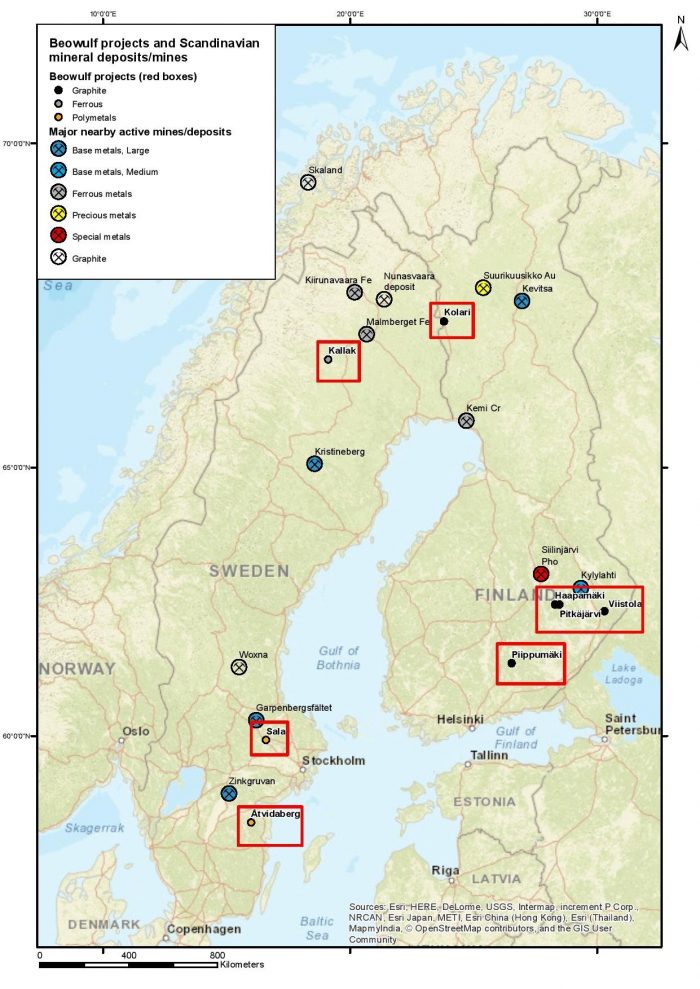 Kallak is predominantly a magnetite iron ore deposit, located in northern Sweden, and the Company's most advanced project.
Kallak has a JORC compliant Indicated resource of 118.5 million tonnes at 27.5 per cent iron ("Fe"), and Inferred resource of 33.8 million tonnes at 26.2 per cent Fe. In 2015, we completed testwork and produced a 'super' high grade magnetite concentrate containing more than 71 per cent Fe content, and low levels of deleterious elements (silica, alumina, phosphorous and sulphur).
Local infrastructure around the project is excellent, with all-weather roads passing through the project and a major hydroelectric power station and associated power lines located only a few kilometres ("km") to the south east. The nearest railway line, the Inlandsbahnen, passes approximately 40km to the east. This railway line is connected at Gällivare with the 'Ore Railway Line', used by Luossavaara-Kiirunavaara ("LKAB") for delivery of its iron ore material to the Atlantic harbour at Narvik (Norway) or to the Botnian Sea harbour at Luleå (Sweden).
We are also exploring for volcanogenic massive sulphide ("VMS") type deposits on the Åtvidaberg Licence in southern Sweden. Bergslagen is one of Europe's oldest mining districts and yielded a substantial portion of Sweden's mineral wealth in the 1800-1900s, with several large mines and hundreds of smaller mines producing copper, zinc, lead, gold, silver, and iron ore. Little modern exploration has been undertaken in the area, yet it hosts Bersbo, one of Sweden's largest early copper mines, and Zinkgruvan, Sweden's most important zinc mine.
In Finland, Beowulf has a portfolio of early-stage graphite exploration projects, each of which has been explored historically, with exploration data readily available for desktop review and evaluation. Through its Finnish subsidiary, Beowulf is a partner in the FennoFlake project, a collaborative group with partners representing the entire graphite value chain, from identification to exploration and mining, processing to end products and market applications.